General

4 days tour | Scorrano (LE) – Italy | dates from 05/07/17 to 08/07/17 | Otranto with Liberty Lines | dep. from Corfu
One is awestruck in front of the astounding luminarie set up in Scorrano, in honor of the patron saint St. Domenica. Every year from 5 to 9 July the Night of the Lights draws tens of thousands of visitors.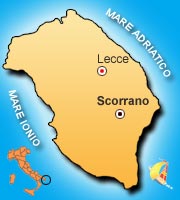 Thanks to fantastic artistic decorations, there's hardly a celebration in Salento that is not enveloped in a fairy-tale atmosphere. In Scorrano the masters of the ''parature'' try to excel themselves every year by building very long illuminated galleries made of thousands of colored lights and incredible choreographic depicting monuments and saints.
Tradition and innovation blend harmoniously in these craftsmanship masterpieces, which are exported all over the world. If you want to experience a truly unique spectacle, the Feast of Santa Domenica and the Night of the Lights is one of Puglia's top summer events.
Don't miss the ignition of the luminarie, made particularly fascinating by the intermittent rhythmic patterns of flashlights, sounds and fireworks.

Overview
Day 1: Wednesday 05/07/17: Departure from Corfu island with Liberty Lines hydrofoil at 18.30 arrival at Otranto – Italy at 20.00. Transfer, dinner and overnight at the hotel.
Day 2: Thursday 06/07/17: …
Day 3: Friday 07/07/17: …
Day 4: Saturday 08/07/17: Breakfast at the hotel, check out and transfer at the port of Otranto. At 15.45 departure with liberty lines from Otranto port, arrival at Corfu island at 19.15. End of tour.
Whats included
Hydrofoil tickets with Liberty Lines 05/07 Corfu-Otranto (18.30-20.00) | 08/07 Otranto-Corfu (15.45-19.15)
3 overnights at hotel … on bed&breakfast basis (accommodation on double room sharing)
Transfers from/to hotel as mentioned in the program above.

Think Before Printing