Apulia - Italy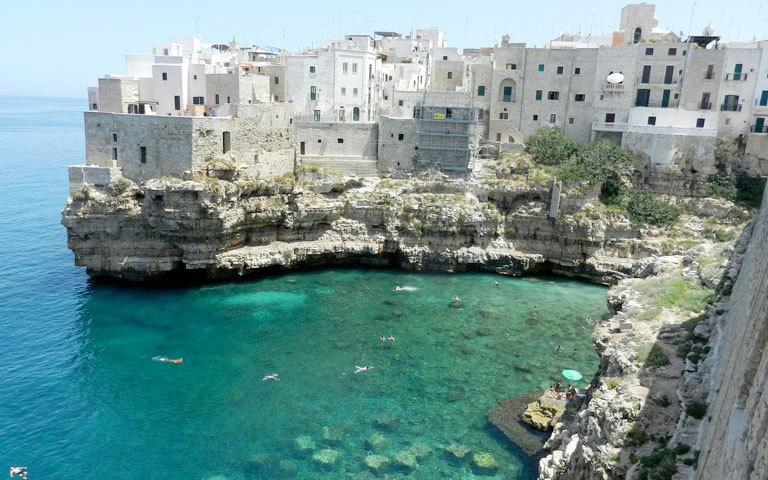 Puglia is a treasure trove of art, history, and nature. A land of sun and hospitality, it's located on a strip of land in southeastern Italy, in a strategic position in the heart of the Mediterranean. Centuries of history and a range of charming landscapes are just some of the reasons why it's such a unique destination, one where you'll enjoy some truly unforgettable experiences.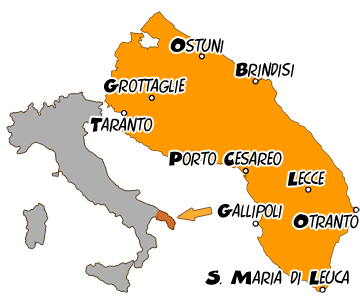 Puglia, with its 800 km (500 miles) of coastline, is hugged by two incredible seas. The Ionian and the Adriatic have crafted a variety of different shores, with steep cliffs overlooking colorful sea bottoms and golden beaches sloping into crystal clear waters. Inland, the uncontaminated realm of nature comprises great valleys and gentle hills covered with olive trees, vineyards, and luxuriant forests, as well as some surprising Mediterranean gravine (ravines).
From the Ancient Greeks to the Romans, from the Byzantines to the Normans, and from the Swabians to the Angevins, many civilizations have followed one another in ruling Puglia. Over the years, numerous archaeological excavations have brought back to light priceless artifacts and works of art and architecture testifying to the history and wide-ranging cultures of the different societies that were once here. And so you'll find menhirs, cave churches, medieval castles, Baroque and Romanesque churches, noble palaces and historical residences, enchanted hamlets and art cities, charming masserie (manor farms) and casali (rural homes).
In addition to this exceptional heritage, there are also three Unesco World Heritage Sites: Castel del Monte, the mysterious fortress of Fredrick II (near Andria); the trulli, characteristic drystone huts, unique in the world; and the Sanctuary of San Michele Arcangelo in Monte Sant'Angelo, a masterpiece of medieval art and an international pilgrimage destination.
Puglia is shrouded in a magical atmosphere, where the past embraces the present, and where ancient religious and popular traditions are safeguarded. Towns and cities come to life with thousands of lights, colors, sounds, as they commemorate their devotion to patron saints with lively celebrations and festivities. In Puglia, ancient customs are perpetuated through rituals related to harvests and fishing, and the work of master craftsmen.
The authentic Puglia can also be enjoyed at the table. Its food and wine are an explosion of exceptional flavors. The secret is in the ingredients, all genuine and locally grown, which give rise to superb extra virgin olive oil and exquisite wines. The quality of life in Puglia is excellent and the weather is always warm. Every season countless events, festivals, and international fairs enliven the region. Hospitality comes first and the people of Puglia will always welcome you with a smile.
Holidays in Puglia are getting more and more glamorous, with an increasing number of tourists coming from all over the world thanks to convenient and fast connections. You can easily reach Puglia from any major European capital, with direct flights to Bari and Brindisi, as well as several boat and ferry options such as LIBERTY LINES to Otranto from Corfu and Paxos islands in Greece and Ventouris ferries to Bari from Corfu, Zante, Cefalonia Islands & Igoumenitsa in Greece and Durres in Albania.
Puglia is waiting for you. Let this extraordinary land captivate you.

Think Before Printing
| | |
| --- | --- |
| Country | Italy |
| Languages spoken | Italian |
| Currency used | Euro (EUR) |