Paxos -Antipaxos islands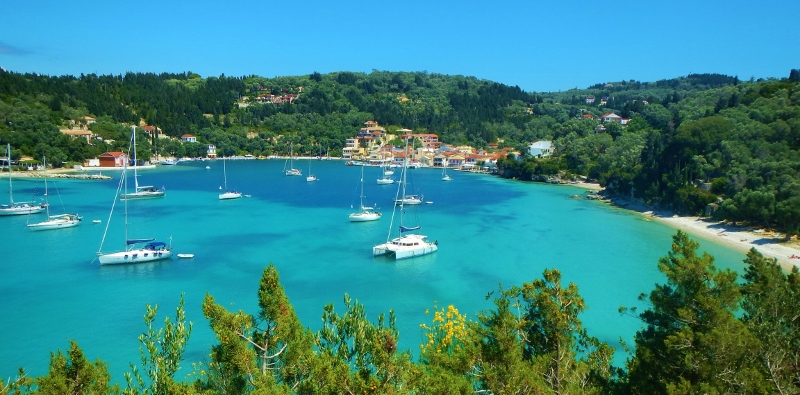 Paxos
The legend has it that Paxos Island was formed when Poseidon, god of the sea severed the south tip of Corfu island with one mighty blow of his trident and dragged it south to create an idyllic retreat for his beloved wife Amphitriti. With an area of 25 sq km. and a population of 2500 inhabitants this green island covered, mostly of olive and cypress trees, is the smallest in the Ionian sea .
It lies only 7 nautical miles from Corfu island 30 nautical miles from the harbour of Corfu city and 12 nautical miles from the beautiful city of Parga, of mainland Epirus which is situated opposite the island. The natural beauty of Paxos attracts dozens of yachts giving the island a cosmopolitan air. White impressive rocks sit vertically along the whole western site of the island. There, are also situated the famous blue caves. According to the legend, in the blue cave of Ypapanti, which is 1200m long and leads to the centre of the island, was situated the marble palace of Poseidon and Amphitriti. Gaios is the capital of Paxos island and took the name of a student of Apostel Paul who introduced Christianity on the island, died and was buried in there.
The small channel which leads to the village city of Gaios impresses every one with the natural fjord that is formed at its entrance by two small islets, the isled of Panagia (Blessed Virgin) and the isled of Agios Nicolas. The inhabitants of Paxos island are mostly working on the cultivation of the olive, fishing and tourism.
History
The history of Paxos Island is in general the same as that of Corfu Island. During the Venetian period, which lasted for 400 years 14th-18th century trade, shipping and agriculture developed in it. The Venetians imposed the cultivation of olive trees. The planting of olive trees was expanded until they covered practically the entire surface of the island.
The same period the fortress and the windmill on the islet of Agios Nicolas were built (15th century). In 1537 the historical naval battle of Paxos Island took place between the Christian fleet of Andrea Doria and the Turkish fleet. In 1797 the Venetians decided to surrender the Ionian Islands after 411 years of firm ruling to the French Republic, who ruled for 2 years. In 1810 the Paxiots rebelled against the French. 54 members of the rebel party were sent to trial, 19 of them were shipped to Corfu judged and convicted and 7 of them were finally executed. In 1814 the British occupied Paxos island and held it until 1864 when along with the other Ionian Islands it was united with Greece.
Paxos – Antipaxos map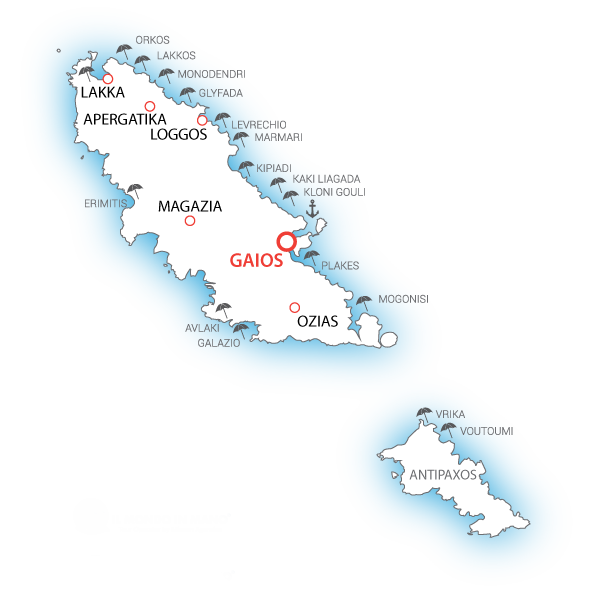 Think Before Printing