Delphi, Arachova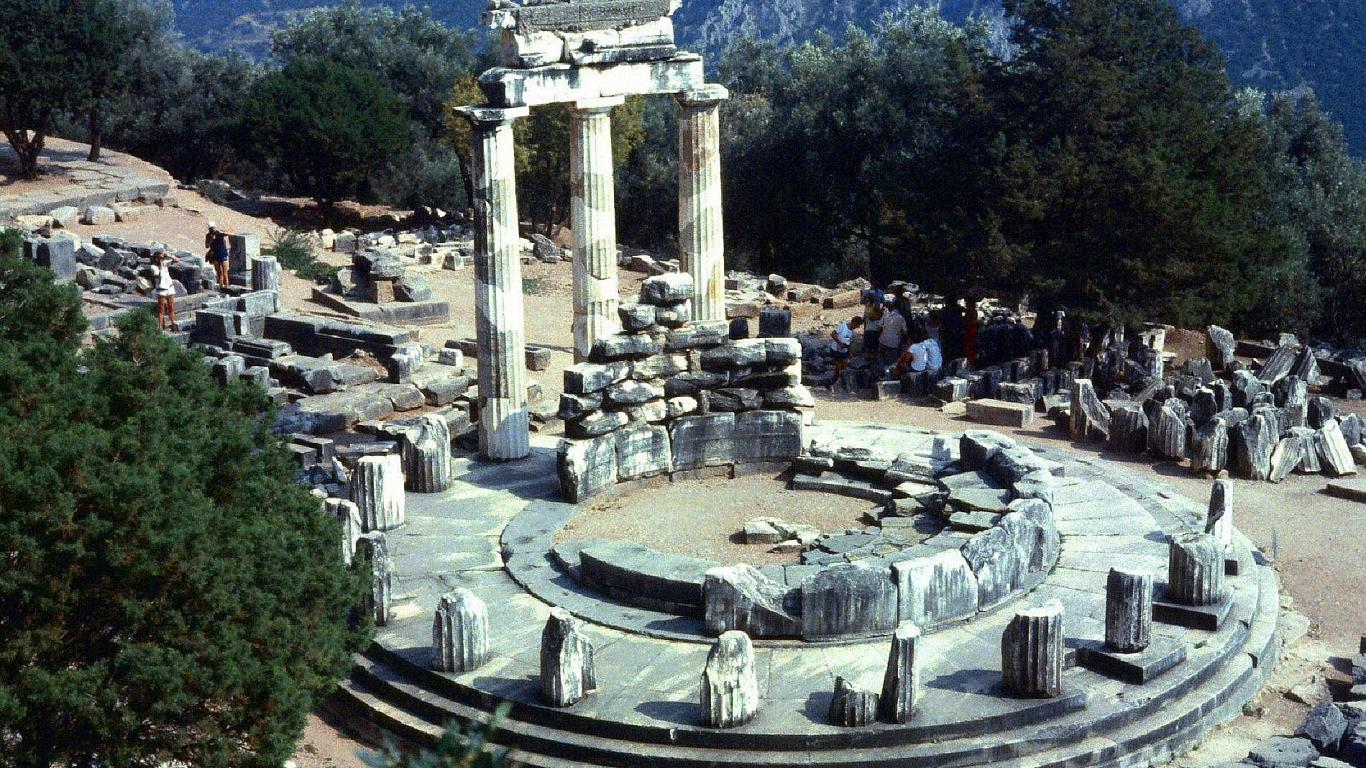 After the Acropolis, Delphi is the most popular archaeological site in Greece. Located 180 kilometers from Athens, a trip to Delphi is listed in just about every tour itinerary and is by far the most popular day trip out of Athens.
Many people don't even know why they are going to Delphi. It's just something they know they are supposed to do when they go to Greece. But for those people who read, Delphi has a special meaning, more than just another collection of ruins in a country that is full of them. Delphi in ancient times was considered the center of the known world, the place where heaven and earth met. This was the place on earth where man was closest to God. In Mythology, Delphi was the meeting place of two eagles, released by Zeus and sent in opposite directions. Where they met indicated the center of the earth. Delphi is known as the center of worship for the God Apollo, son of Zeus who embodied moral discipline and spiritual clarity. But even before the area was associated with Apollo there were other deities worshipped here including the earth goddess Gaea, Themis, Demeter and Poseidon, the well-known god of the sea. By the end of the Mycenaean period Apollo had displaced these other deities and became the guardian of the oracle. Delphi was to become a PanHellenic sanctuary, where every four years, (starting in 776 BC) athletes from all over the Greek world competed in the Pythian Games, one of the four PanHellenic games, precursors of the Modern Olympics.
Arachova is a mountainous village nestling picturesquely at the foot of Mt. Parnassós in Viotia, Southern Greece. It is the most cosmopolitan winter destination in Greece, a great favorite for passionate ski lovers and celebrities, or just first-time visitors who wish to relax in a dreamy mountainous setting with modern tourism facilities. Its modern ski resort, its proximity to Athens, and its breathtaking mountainous landscape are the strongest reason why. Apart from the mountain activities, Arachova is also famous for its bustling nightlife and as the favorite mountain resort of Athenians. It is located 35 km west of Livadeia. It was in Arachova that Georgios Karaiskakis (1780-1827) defeated the Turkish army led by Moustafabei in November 1826.
Must visit: The Byzantine churches of the village with their well-preserved frescos.
Hot tips:
Discover the traditional character of the village by taking leisurely walks through its narrow cobblestone streets. Enjoy hot and sweet or soft and fruity drinks in cafés, or traditional kafeneia (coffee shops).
Stay up all night and enjoy the village's bustling nightlife. There are a plethora of bars and clubs up and down the streets of Arachova.
Visit the nearby archaeological site of Delphi.

Think Before Printing