Ventouris Ferries

Dear Passengers,
We announce that from 04 July 2020 all our routes ITALY – GREECE will start regularly as per schedule. According to the instructions announced by the Greek Authorities regarding the prevention of the spread of the Covid -19 pandemic, we inform you for the following steps that passengers should follow before embarkation:
1) According to Article 1 published in Government Gazette 2602/B28.06.2020, all travelers entering Greece , regardless of nationality, must fill and submit on a period of forty eight (48) to seventy two (72) hours before their arrival in Greek Ports the electronic Passenger Locator Form , which is available on the following link: https://travel.gov.gr/#/
Kindly note that it is mandatory to show a printed or electronic copy of the Passenger Locator Form to staff of the General Secretariat for Civil Protection and the National Agency for Public Health.
2) Also note, all passengers travelling to and from Greece  must fill the "Pre – Boarding Passenger Locator Form" (see below) and hand it over during embarkation to Chief Purser of the vessel.
 Important Notice: Boarding will not be permitted to passengers who have failed to submit the above mentioned two steps.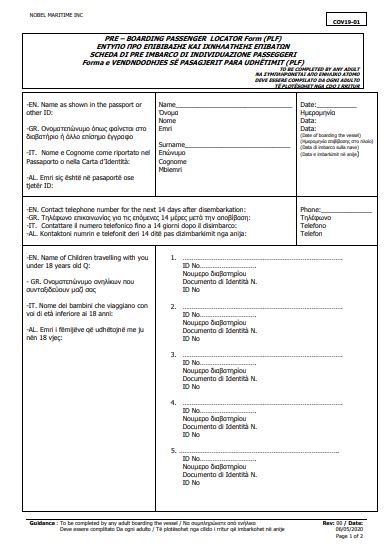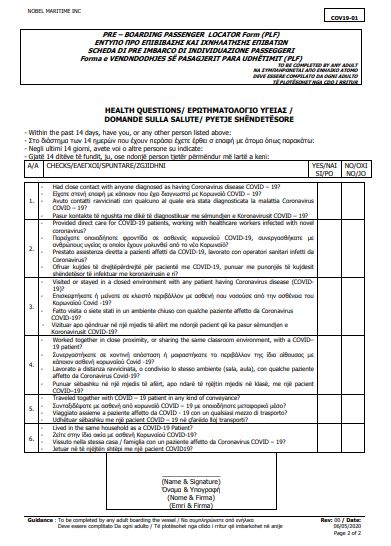 WELCOME TO GREECE!
Beginning July 1, 2020, the Greek government has determined how the country will welcome travelers, carry out the necessary diagnostic screening and keep everyone safe throughout the season.
The Passenger Locator Form (PLF) is a key element in the planning. All travelers are obliged to complete their PLF at least 48 hours before entering the country, providing detailed information on their point of departure, the duration of previous stays in other countries, and the address of your stay while in Greece.
Protocol for passengers arriving by sea
Arrival of incoming passengers on foot at the main entry gate.
Incoming passengers arriving in vehicles are directed to the special entry gate.
All passengers are transferred to areas where screening personnel are located and check the unique quick response (QR) code each passenger shows on their mobile phone screen or printed QR form.
Depending on passengers' QR code, screening personnel either direct them to the screening area or allow them to enter the country. Until the screening results become available, passengers who are tested for the new coronavirus SARS-CoV-2 by a trained health team are obliged to self-isolate at the address of their final destination as declared on their passenger locator form (PLF). Upon completion of the screening they are allowed to enter the country.
All passengers must comply with all of the necessary preventive measures (use of masks and physical distancing).

CHECK IN – VENTOURIS FERRIES
PASSENGERS, VEHICLES AND CAMPERS: It is compulsory to check-in in the appropriate offices before boarding on VENTOURIS FERRIES ships. The presentation at check-in is required at least 2-3 hours before the scheduled departure by presenting the voucher, booking confirmation or tickets. In high season periods passengers are asked to show up well in advance.
Passengers must be in possession of valid identity documents, otherwise the boarding will be rejected with no right to any refund. The dock where to boarding will be indicated by our staff during check-in. You can reach the boarding area only after checking in.
TRUCKS AND CARGO: Truck drivers must show up to check-in at least 3 hours before the departure and they must be in possession of the cargo and identity documents. Delayed arrival of the truck must be notified by the driver to the related port office in advance; else the reservation will be canceled.
VENTOURIS FERRIES – PORT OFFICES
Corfu:   NIAKAS TRAVEL *3rd Parodos El. Venizelou Str.4. 49100 CORFU PORT (TEL. +30 26610 36439) EMAIL: [email protected] URL: www.niakas.com
NB. only 3 hours prior each departure check in desk is open inside Corfu port terminal
Igoumenitsa:    MILANO TRAVEL :Ioniou Pelagous str. (New Port Egnatia) :TEL:+30 26650 23565, 26670FAX:+30 26650 24880 EMAIL: [email protected]
Bari:    BLUMARE SRL: Greek line: Nuova Stazione Marittima di Bari: Terminal Crociere: TEL:+39 080 8761451FAX:+39 080 2226052URL: www.blumare.eu EMAIL: [email protected]
Albanian line: Area Marisabella: TEL:+39 080 8496685 URL:  www.blumare.eu EMAIL: [email protected]
Zante:    KEFALLINOS DIONYSIOS SHIPPING: 72, K. Lomvardoy str. TEL:+30 26950 42223, 49500FAX:+30 26950 24105 EMAIL: [email protected]
Cephalonia:    MARKETOU TRAVEL: 20, Miaouli str., 28080 Sami: TEL:+30 26740 22055FAX:+30 26740 22635 EMAIL: [email protected]
Durres:    DUNI PORT AGENCY: L.4Rr. Skenderbeg 161, Durres – Albania | TEL:+355 52 230200FAX:+355 52 230201 URL: www.duniport.al EMAIL: [email protected]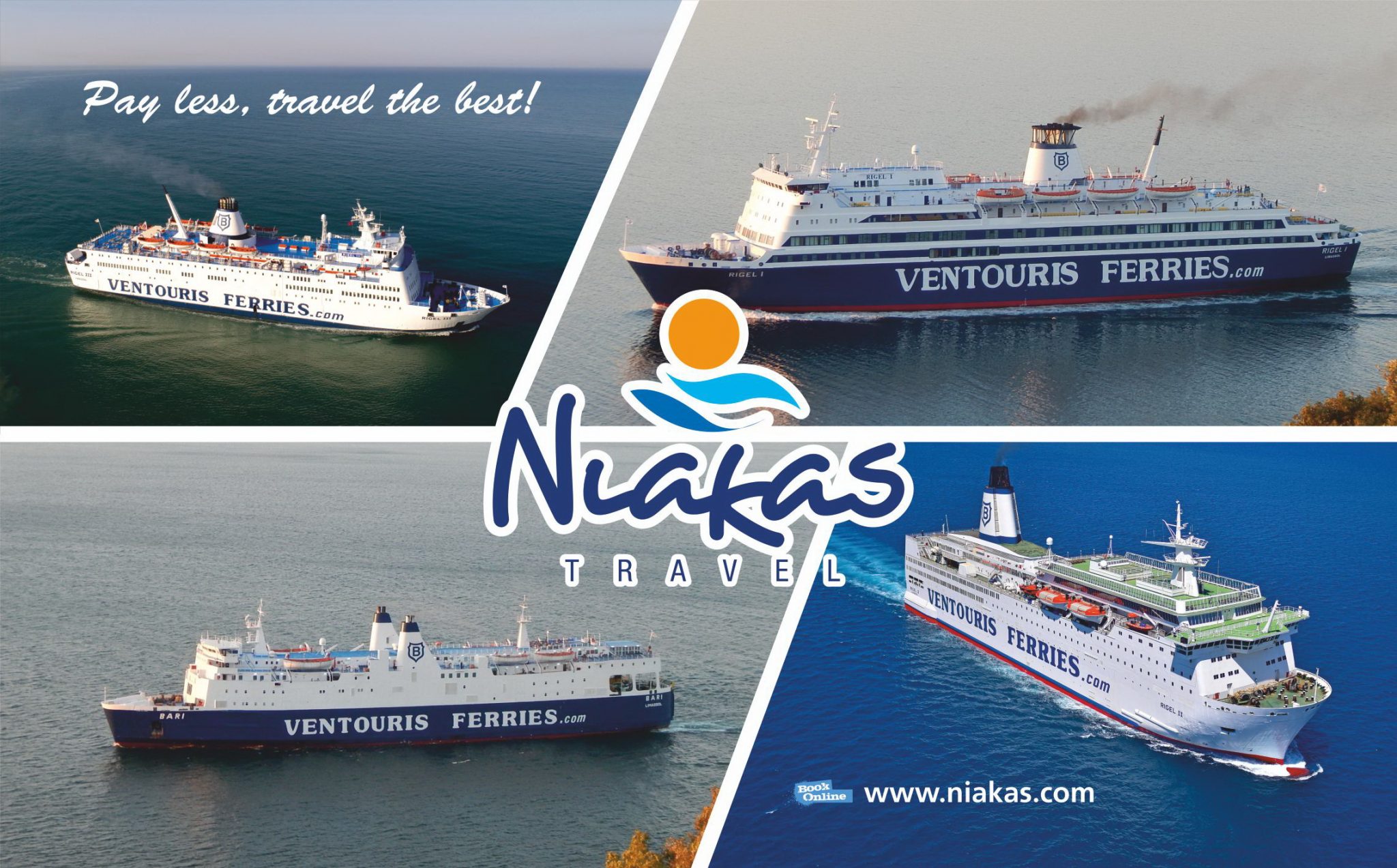 GREECE – ITALY | TIMETABLE 2020
TIMETABLE 2020 |  ITALY – GREECE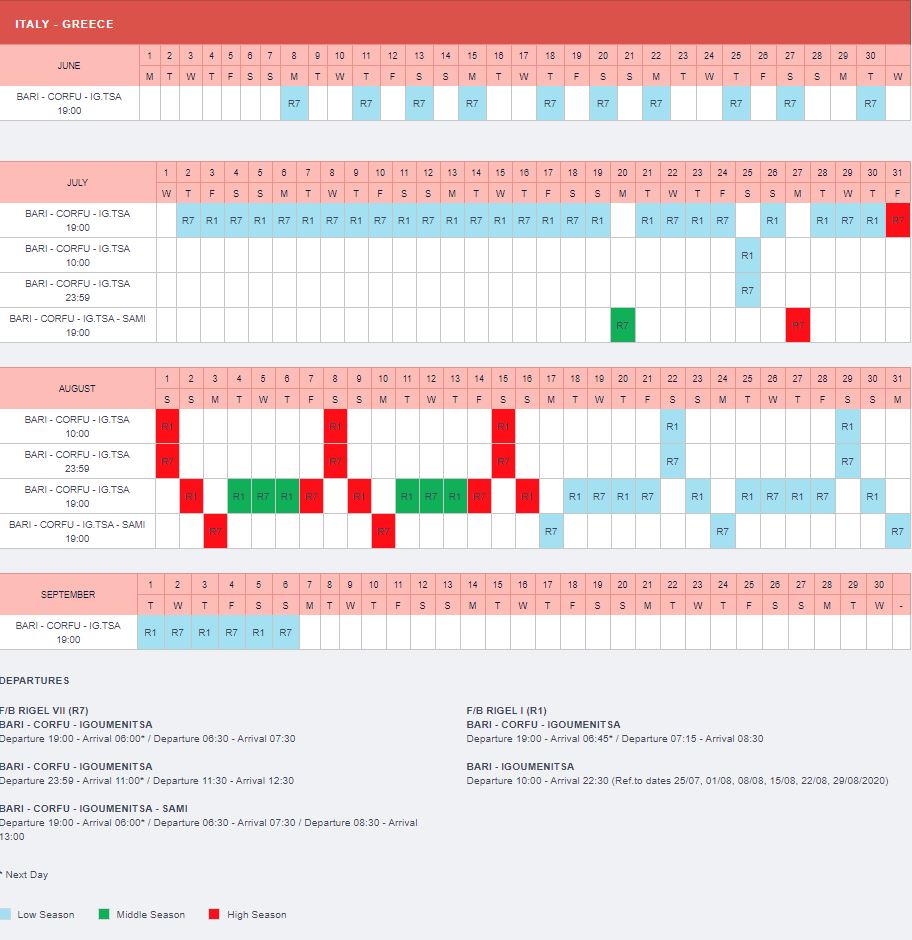 DISCOUNTS F/B RIGEL I & F/B RIGEL VII | ITALY – GREECE LINE
Return discount: For round trip tickets the discount for passengers and vehicles has been already calculated in the mentioned fares at the "RETURN" column is only applicable if a round trip ticket is purchased at the same time. The return discount is granted regardless which port of return is selected. The return discount is up 30% discount.
50% Children discount: Children from 4 up to 12 years old, travel with 50% discount on the net fares (one way and return)
Infant discount: Children up to 4 years old, who do not occupy a bed travel FREE of charge  (port expenses – Euro 12,00 – must be paid)
* ATTENTION: Discounts are not cumulative
Once ticket with EARLY BOOKING DISCOUNT has been issued, reservation may be changed but not cancelled (if reservation is changed after 31st December 2019, difference between early booking and official fares has to be paid) – difference is calculated on the total fare of the ticket.
*The discounts/offers are not cumulative except for the Early Booking discount. |  *Early booking discount is not valid for Lux cabins.
CANCELLATIONS – REFUNDS:
Depend time of cancellation the following amounts are refunded (Early Bookings discounts are excluded).
A 100% refund, up to 91 days prior to departure.
A 80% refund, from 90 days up to 8 days prior to departure.
A 50% refund, from 7 days to 24 hours prior to departure
The company has no obligation to refund in case of cancellations made less than 24 hours prior to ship's departure or if the passenger does not report at check‐in

Think Before Printing