Loutraki, Corinth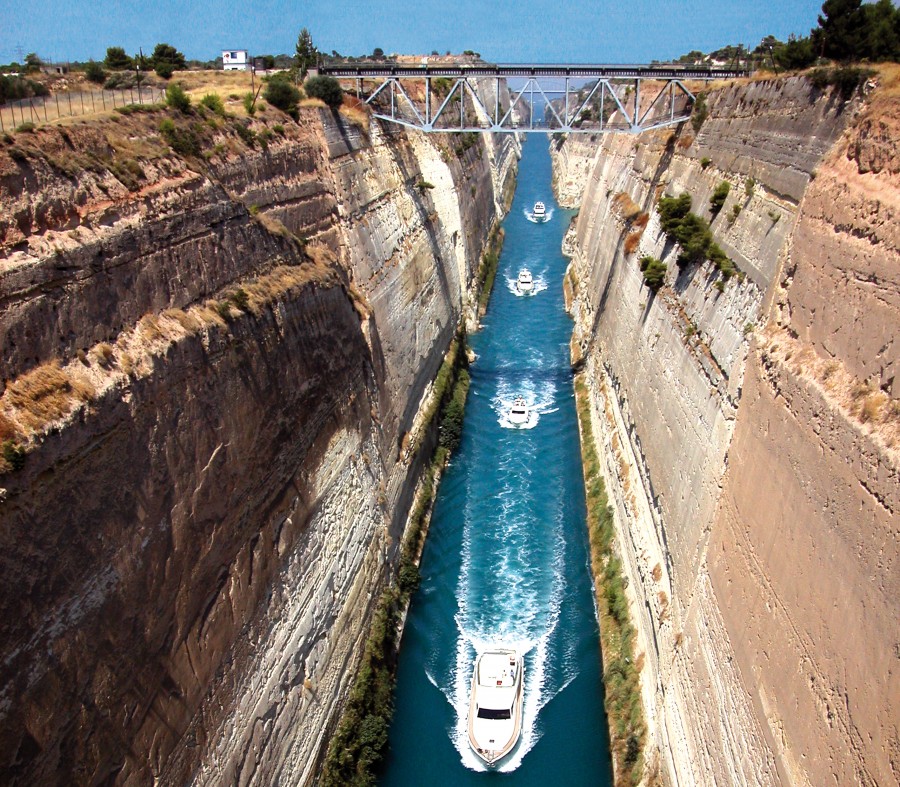 Loutraki is a seaside resort on the Gulf of Corinth, in Corinthia, Greece. It is located 81 kilometres (50 miles) west of Athens and 8 kilometres (5 miles) northeast of Corinth. Loutraki is the seat of the municipality Loutraki-Perachora-Agioi Theodoroi. The town is well known for its vast natural springs and its therapeutic spas.
At the foot of Mount Geraneia, built in the northern part of the Corinthian Gulf's cove, lies Loutraki; a coastal town which is internationally known for its thermal springs! During the ΄50s, ΄60s and ΄70s it was a very popular vacation resort both for Greek and foreign visitors. The first Casino in Greece was established in 1928 in Loutraki, whilst in 1995 the biggest Casino in Europe re-opened in Loutraki, which enhanced the city's tourism.
The thermal springs of Loutraki were famous since Antiquity, when the city was called Thermai, in honor of Thermia Artemis. The region is also famous for its natural mineral waters.
sightseeing:
The Isthmus Canal (Corinth Canal) and Ancient Diolkos at Poseidonia area.
The artificial waterfalls, in a place surrounded with running waters which impress the visitor.
The Lake of Vouliagmeni as well as the impressive lighthouse in Heraion.
The archaeological site of Heraion and the temple of Hera in Melagavi cape, on the western tip of the Perachora peninsula.
The Isthmia archaeological site and the Archaeological Museum of Isthmia.
The archaeological site of the Roman villa in Katounistra, in Loutraki area.
The ancient Theater of classic times in ancient Krommyon in the broader area of Agioi Theodoroi.
The Convent of Agios Nikolaos Neou (11th cent.) and the Monastery of Agios Patapios, 6 km. northeast from Loutraki, where the saint's relic is kept.
The churches of Agios Andreas, Agios Georgios, Agios Fanourios and of Panagia of Giatrissas.
The chapel of Agia Paraskevi
The Basilica of Agios Dimitrios (1750) with the great wall paintings and the temple of Seven Makavaion.
The historical Monastery of the Panagia toy Prathi in the slopes of Geraneia Mountain.
The Historical chapel of Agioi Theodoroi.
Alkyonides, a complex of four islets in the Corinthian Gulf. You can access their magnificent beaches by a sailing boat from Loutraki or from the bay of Stravon.
The coastal settlement of Schinous (28 km to the north).
The picturesque village Pissia on the Geraneia mountain slopes (18 km from Loutraki)
The coast of Mavrolimni (6 km. to the northeast from Schinous) where a private marina also operates. It's name is attributed to its volcanic and dark bottom.
Events
Artistic events from the Cultural Center of the Municipality of Loutraki and the Cultural Organization "Promitheas".
-Celebration of the Birth of Virgin Mary, on 8 September, in Panagia Giatrissa
-Feasts during the Carnival.
Activities
Thermal springs ideal for spa-therapy and mineral water therapy.
Water sports and mountain activities  (climbing, mountain bike, hang gliding).
The Rally of Gods- Acropolis Rally, organised every May in Loutraki, where the service Park for the races is settled.
*Swimming in Loutraki, in Neraida, in Heraion, in Flabouro, in Skaloma, in Mylokopi, in Shinos, in Isthmia, in Kalamaki, in Agioi Theodoroi, in Pefkakia, in the Lake of Vouliagmeni, in Skaloma, in Mylokopi

Think Before Printing