Availability
We are sorry, this accommodation is not available to book at the moment
General
As one of the Divani Collection luxury hotels in Greece, Divani Meteora hotel offers guests the opportunity to enjoy traditional Greek hospitality in a contemporary setting. The fully renovated hotel in Meteora is surrounded by immense natural beauty, the religious rocks of Meteora, encouraging outdoor enthusiasts to come and escape. The hotel offers a stunning locale from which, one can experience one of the natural wonders of the world, practically in front of their room window. Our beautiful hotel is a 4-hour drive from Athens on a good road.
M Restaurant : This welcoming restaurant has a relaxed atmosphere and is flooded with natural light during daytime. Enjoy its view of the Meteora rock pillars over breakfast, lunch or dinner. Our chef prepares a variety of local and international dishes, with their own signature tastes, which you can accompany with a variety of wines. Opening Hours: 07:00 am to 10:30 pm.
On the Rocks Bar: This bar offers a unique setting for unwinding while offering beautiful views to the hotel's gardens and swimming pool. Here our guest can find a wide selection of cocktails and drinks while relaxing from his busy day. Opening Hours: 07:00 am – 11:30 pm
Pool Bar: The Pool Bar is there to slake your thirst or provide light snacks while you enjoy our outdoor pool. Admire the beautiful panoramic views of the religious rocks of Meteora while sipping your drink. Opening Hours: 11:00 am to 7:00 pm (operating only during summer)
Spa: The Divani Meteora Hotel offers you the luxury of a heavenly spa complete with indoor pool, sauna, steam bath and Jacuzzi in surroundings designed to induce calm and wellness. Just the place to pamper yourself thoroughly. Opening Hours: 07:30 am – 9:30 pm
Fitness Centre: Our spa also includes a fully equipped fitness centre so that you can tone your muscles during your stay. Follow your work out with a visit to the sauna, steam bath and Jacuzzi for the perfect finale.
Meetings & Events: The Divani Meteora Hotel can host business events in our 2,000 m2 conference centre that can be divided flexibly into 7 different areas. We also have two new meeting rooms, Meteora View and Garden View, equipped with hi-tech features and able to accommodate over 100 guests each. Our experienced staff will take care of your specific needs and work to make your event, meeting or conference a memorable success.

Think Before Printing
Activities
The Divani Meteora Hotel is located in Kalabaka, central Greece, 350 km north-west of Athens and just 1km from the incredible Meteora monasteries. The six monasteries, built from the 14th-16th century, sit atop the remarkable religious rocks of Meteora, a designated UNESCO World Heritage Site. Their spectacular scenery has been used in films and as settings for video games.
The natural beauty of this area is ideal for escaping from your routine. The monasteries are accessible by road and pathways, and hiking, biking and rock climbing activities are available. Other places worth a visit in central Greece include Trikala, Lake Plastiras and Kaimaktsalan skiing centre.
Facilities
Air Condition
Bar
Desk
Fitness
Free toiletries
Hairdryer
Heating
Indoor pool
Lounge
Minibar, Fridge
Outdoor pool
parking
Pay-per-view Channels
Private bathroom
Restaurant
Room service
Safety Deposit Box
Sauna
Seating area
SPA
Telephone
TV
Wake up service
Washer
WiFi
Meteora, Kalambaka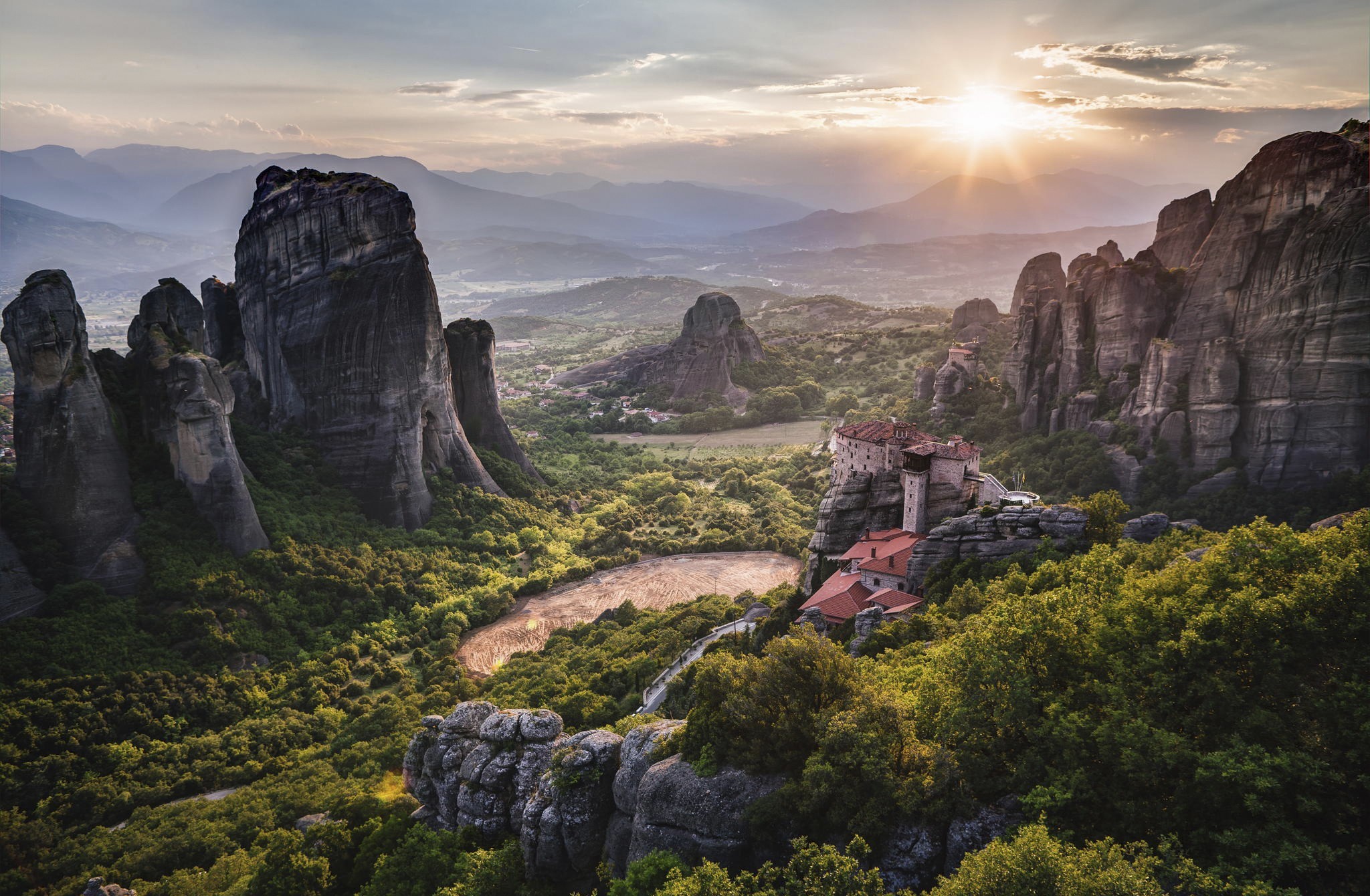 Serene, spiritual, magical, mystical, extraordinary, breathtaking, immense, inspiring, impressive. These are only some of the words people very often use in an effort to describe the Meteora phenomenon. A trip to Meteora offers the unique experience of nature's grandeur in conjunction with history, architecture and man's everlasting desire to connect with the Divine. From the
Sports & nature
The Climate of Meteora and Kalampaka Region The mountain range to the east and north of the site experiences a wide climatic variation from baking heat in summer to severe cold in winter with heavy snowfalls. Summer is the driest time, storms occurring all year round especially at higher altitudes. Vegetation The area includes forested hills and river valley with riverine forests of Platanus orientalis and species such as the endemic Centaura lactifolia (found near Koniskos village) and Centaurea kalambakensi. The nearest protected area is Trikala Aesthetic Forest(28ha), created in 1979, which has been planted with Pinus halepensis and Cupressus sempervivens. The potential vegetation cover is described as supra-Mediterranean, with climax cover of Quercus spp. And Ostrya spp. And beech Fagus sylvatica forest above 700m. Fauna Mammals include grey wolf Canis lupus (V) and otter Lutra lutra. The region was famed in the 1970s for its raptor population, with four vulture species, lammergeier Gypaetus barbatus, black Aegypius monachus, Griffon Gyps fulvus and Egyptian Neophron peranopterus; four eagle species, golden Aquila chrysaetos, short-toed Circaetus gallicus, booted Hieraeetus pennatus and Bonelli's Hieraeetus fasciatus and breeding lanner falcons Falco biarmicus. Other birds include rock and cliff haunting species, such as alpine swift Apus melba, crag martin Hirundo rupestris and red-rumped swallow Hirundo daurica. Somber tit Parus lugubris occurs in the valley. The area remains of importance for birds of prey, with breeding species of honey buzzard Pernis apivorus, black kite Milvus migrans (ten pairs), Egyptian vulture (with 50 pairs the largest population in Greece, but declining), short-toed eagle (five pairs), Levant sparrowhawk Accipiter brevipes, lesser-spotted eagle Aquila pomarina (one pair), booted eagle (three to five pairs), Bonelli's eagle (one pair) and peregrine falcon. In addition, black stork Ciconia nigra breed (two pairs) and roller Coracius garrulus (ten pairs) are found (Grimmet and Jones, 1989).
---
Read more