Liberty lines (Otranto-Corfu)
The 'AMMARI' hydrofoil of Liberty lines connecting Otranto – Corfu is coming back for next summer!
The service will be active from 27/06/2020 till 05/09/2020 with up to six departures per week, at 08.30 from Otranto and at 18.30 from Corfu. This new timetable has been designed to better adapt the line to the needs of our territory and the tourists who visit it, and to the prevailing sea conditions in the strait of Oranto.
Starting in the morning from Otranto and the late afternoon from Corfu it is ideal for organizing long weekends in Corfu by spending more time for holiday and relaxation in the island and less for travel.
The rates range from 95 to 115 euros per person, with three seasonality groups. For round-trip on the same day (day-excursion) there is a 100% discount on the return ticket, while for groups of at least 25 people there is a 15% discount.
NB. Otranto's departure is always at 08.30 am and arrival time in Corfu is at 12.15 pm, which give us the opportunity to connect with Saranda in Albania and Paxos in Greece within the day.
Other local companies have programmed their connections in coincidence with liberty lines in order to transport passengers within sort time from their arrival in the island of Corfu in other destinations such us: Ionian Seaways that connect Corfu with Saranda in Albania (approx. 40 mins) with departures every day at 13.30 pm. from Corfu' port.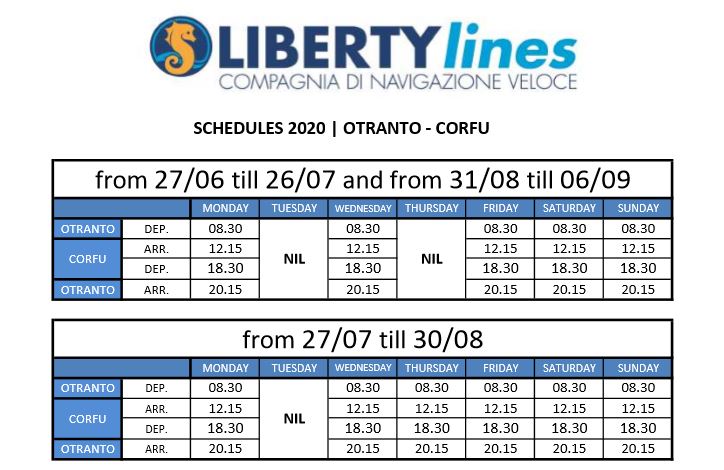 PORT AGENTS GREECE | ITALY
CORFU – Greece: NIAKAS TRAVEL | tel. +30 26610 36439 | fax. 45153 | email: [email protected] | www.niakas.com
OTRANTO – Italy: ELLADE VIAGGI | tel. +39 0836 801578 | fax. 0836 802746 | [email protected] | www.elladeviaggi.it

RATES 2020

passengers tariffs per person

ONE WAY TICKETS

LOW SEASON
MEDIUM SEASON
HIGH SEASON
Adults
85,00
95,00
105,00
Children 4 – 11 years
42,50
47,50
52,50
Infants 0 – 3 years
Free
Free
Free
Extra services Tariffs per way
Extra luggage
10,00
10,00
10,00
Pets
10,00
10,00
10,00

Port taxes (to be added) Euro 10 per passenger per way

every ticket includes 1 hand luggage per person with dimensions 60 x 40 x 20 cm

Cancellations penalties: till 7 days before departure 25% | from 7 till 24 hours before departure 50% | within 24 hour from departure 100%
Liberty Lines has become the biggest company in the branch of high-speed connections thanks to sustained efforts, both for the expansion of the fleet and for having ensured efficiency, accuracy, technological innovation and high standards of quality and safety.
Our fleet is continuously subjected to rigorous preventive maintenance and regular safety checks. It consists of 32 hydrofoils, catamarans and mono-hulls. Our fleet is always kept up to date and offers high levels of safety and comfort, reason why Liberty lines has the primacy on the fast transport for passengers with 100.000 departures and more than one million of miles travelled. Starting from next summer, Liberty Lines will guarantee daily speed-connections between Italy and Greece departing from Otranto towards Corfu island.
CONTACTS


Think Before Printing