Borderland surrounded by two seas and supported by a thousand-year-old history  in the provinces of Lecce and Brindisi, the Salento is the heel of the Italian boot. Traditions, flavours and colours are exalted in one of the most wonderful scenarios that the Mediterranean can offer.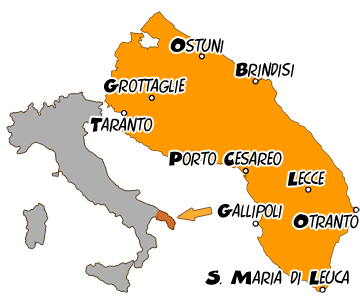 Their name was Messapians and they populated the Salento in the seventh century B.C. A culture that came from the sea and that, like oil, spread everywhere in this corner of Italy where they still speak an old Helladic dialect, the grecanico. And with the language, here is the dance, that of the women stung by the tarantula, who take comfort in the religious cult  of the Church of  San Paolo in Galatina, the real heart of Salento.
Today a summer festival brings the pizzica in every square of Salento, but its roots are to be found in the folds of history and the local one is so ancient that it actually refers to the first Europeans. Many are the caves rich in archeological finds of the Paleolithic age, like that of Venus, in Parabita, that famous painted of Porto Badisco or those of the wonderful Regional Park of Porto Selvaggio, seaward: Grotta (Cave) di Capelvenere, Grotta dell'Alto and the Grotta del Cavallo, in the bay of Uluzzo.

The Ionic coast from Pulsano up to the tip of Santa Maria di Leuca alternates golden sand at low profiles, while the character of the Adriatic coast is expressed by the majestic cliffs with breathtaking views. An enchanting scenery, in which the jewels of the most recent culture stand out and  warm our hearts : the byzantine cathedral of Otranto – looking towards the East – with the mosaic of the Albero della Vita ( Tree of Life ), or the castle of  the eleventh century where perhaps Aeneas landed. And then the wonderful city of Lecce, a Baroque jewel with its 40 Churches, that projects the traveller at the centre of a film set.

Santa Maria di Leuca, as if were a watershed between two seas, with its splendid Basilica di Santa Maria de Finibus Terrae  marks precisely the "end of the earth" and, surrounded by stunning art nouveau villas, invites to meditation and helps the inspiration.
Beach lovers should not miss those of  Gallipoli, such as the Baia Verde or the endless Marina di Pescoluse, that reminds many people of the Maldives.
Finally, here is Manduria, that give us back the best Messapian walls come to us and a maze of streets, which was once the Jewish ghetto. Here begins the path of the Primitivo wine, the DOC red wine that – together with the Negroamaro – introduces us to the Salento wine and food tradition. Seafood  (the raw ones), polpa alla pignata, cozze arrancate dal mare, or caciocavallo, cutturiddi (lab stew) and parmigiana with wild artichokes: Salento's dishes bring with them the magic of an endless history.


Think Before Printing